About
The Punjab Association is proud to uphold the legacy of its founders and continually strives to help the community development for the better. By ensuring the social services reach more deserving individuals, through education and employment. It is undoubtedly a humbling endeavor to empower society at large.
Madras, right from the early days of its Presidency, was known for its reputable educational institutions – schools and colleges where several stalwarts came to learn. Gradually and quite inevitably, there came a time where space was becoming a constraint to house students. This need was promptly addressed by the Punjab Association who came forward to start what would be the first of their many educational institutions.
The Adarsh Vidyalaya was started in a mansion on Peters Road in Royapettah with a thought-provoking story behind its foundation.
Five Punjabi families in the city came together and put on a performance enacting the drama "Sahiddon Ki Pukkar"; an episode that recalled the cold-blooded Jallianwalah Bagh Massacre of Amritsar, Punjab in 1919; they received proceeds from this show which was then used to purchase the land in an auction for a humble Rs. 56,400. The mansion was bought in the year 1953 and Adarsh Vidyalaya was started on 13th July 1954 as a small English Medium Nursery School with 35 young children on the rolls.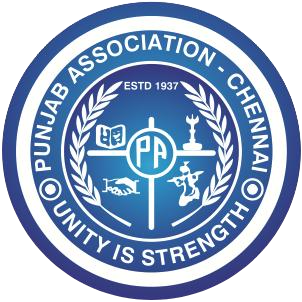 This sincere and whole-hearted foray into education was the keystone of what the new generation would thrive on.
Heritage
It was a time that changed the history of India; the year 1947, when people were forced to flee from the erstwhile Punjab and Sind provinces (now a part of Pakistan) in Hindustan. Families escaped in hordes, carrying what little they could on their backs, arriving in places like Delhi by train, by road, by carts and by walk; the only other means of transport available. As Delhi began burgeoning with the Punjabis and Sindhis, it was but natural that they began moving to other cities like Calcutta, Mumbai and Chennai.
At this trying time where families were facing displacement, among other massive losses; The Tamil Nadu Government came forward to rehabilitate them through the existing Punjab Association in Chennai. The Punjab Association at that time which was merely a group of 10 to 15 families, took the aid of the Government caring for the refugees like their own, ensuring all their needs were met. Relief camps were run, the refugees were helped to get houses and were settled in to the city– a move which set the tone of much greater things to come.
In addition to providing accommodation, the people who hade now made this city their home were given licenses to export, shops to run their business, and their children were admitted in schools and colleges as well. The residents of the city were of immense help to the people too. The Punjab Association slowly began growing from here grew and started functioning as a non-political, non-communal, non-regional, non-profit, secular voluntary social service organisation.
This is a real life story that will never be forgotten as it proves by hard work and perseverance there is nothing that cannot be achieved. Through sheer grit, diligence and their business acumen, the Punjabis carved their identities in a new city that was now home forever. They excelled as entrepreneurs, professionals and academicians. To honour their new lives, two dynamic Punjabi gentlemen Lt. Col. G.S. Gill and Shri P.N. Dhawan decided they must reciprocate their community's goodwill to the Tamils who treated them as their own brethren.
The title torch bearers sometimes seem too timid for Lt. Col. Gurdial Singh Gill and Shri P N Dhawan but their legacies will live on in the institutions created and through the undying services of the community, especially in Chennai.
Lt.Col. Gurdial Singh Gill The Punjab Association owes an irredeemable debt of gratitude to its Founder President, the late Lt.Col. Gurdial Singh Gill who was the first Indian Inspector General of Police. A man who had a well-defined foresight always thinking far ahead; Lt. Col. Gill was a revolutionary. In the 1930's, when he was stationed in Chennai, leaders and people of prominence in the city developed a close affinity with him, as the warm-hearted Sikh never failed to impress. During his four-decade-long steadfast stewardship, he displayed keen insight and a crusading spirit to build up a stupendous service structure. Lt. Col. Gill is the man behind the many working units that stand today devoted to the causes of education, medical care, women's development, social service and rural welfare.
Shri P.N. Dhawan The founder member of Punjab Association, Shri P.N. Dhawan made this his life's mission dedicating the best of himself to this cause. It all began when he organized a get-together of five Punjab families on January 1st, 1937 and suggested they form an association for social service and thus was born Punjab Association. Shri P.N. Dhawan served as its General Secretary for over 55 years, duly attaining the status of a legend in his lifetime. He was the central motivating force and the guiding light that drove the growth and development of the Association with his principles of service.  Shri P.N. Dhawan was bestowed with the honor of Padmashri in 1984.