Shift 1 : 8 am to 1:10 pm
Shift 2 : 1:30 pm to 5:30 pm
Sat: 9.00 AM to 2.20 PM
Why Study This Course
Psychology is a developing field in our country, which stands out from the other branches of science by studying the Mind and Behavior of Humans and animals. The Undergraduate Program in Psychology includes extensive curriculum, with both theory and practicum which strengthens the fundamentals of Psychology in students. Since Psychology is a diversified field, this course covers several branches within the field of Psychology in order to give a holistic understanding. The field of Psychology not only enriches and enhances student's knowledge, skills and competence but also paves way for Personal and Interpersonal development.
The three years Undergraduate Program in Psychology is the first step to become a well-equipped, trained and Qualified Mental Health Professional.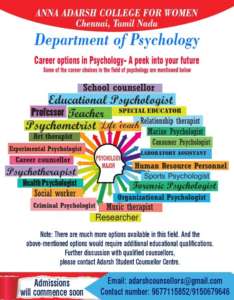 Careers and Placements
A general placement cell is available in the college premises. However, with a PG degree in Psychology, the career options are more widespread. Some of the career choices in the field of Psychology are mentioned below:
Eligibility & Duration
Students must have completed XII from a recognized board.
Students from all streams (Science, Computer Science, Commerce etc.,) are eligible to apply.
Ranking based on marks out of 400 in Higher Secondary examination.
Course Duration – 3 years.
Message By HOD
The course offered by the Department of Psychology at Anna Adarsh college for Women will attempt to satiate the student's knowledge and understanding. The Department aims to function at its best to inspire the students towards greater aspirations for holistic development. In addition to theoretical and practical classes, the department will organise guest lectures, workshops, seminars and field visits. The Department also offers inhouse internship opportunities at Adarsh Student Counselling Centre, available within the premises. The students will get experiential learning about Counselling sessions and training programs which in turn makes the course at Anna Adarsh College unique and resourceful. I vow to enable students to lead ethically better, stronger and more resilient lives.
On behalf of the department, I welcome the budding Psychologists to this astounding journey of three years where the learning will be mutual, meaningful, fruitful and inspiring.