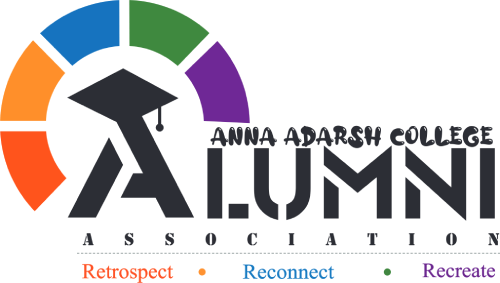 ABOUT
Anna Adarsh College Alumni Association is a registered body under the Tamilnadu Societies Registration Act,1975 (Tamil Nadu Act 27 of 1975).
Motto:
Retrospect, Reconnect, Recreate
Objective:
To create a common platform and promote the sense of belonging to the alma mater by staying connected with them.
To foster and promote bonding of alumni among themselves.
To ensure alumni wellness and support development in their life.
To create collaborations and opportunities through alumni for present students.
Vision
To bring together the former graduates through the common platform, providing necessary support for their overall holistic development, post their graduation in adarsh, and in-turn be encouraged to contribute to the growth of present students and institution.
Mission
To promote strong relationship among the AAC'ians and also with the institution, thereby aid in meeting the needs of all present and future alumni. To encourage community service by raising awareness and funds for various social causes through Alumni outreach programmes.
Office Bearers
President:
MS. RANJANA
Assistant Professor, Department of Computer Science
Anna Adarsh College for Women
Vice President:
MS. M. MAHESWARI
Assistant Professor, Department of BCA
Anna Adarsh College for Women
General Secretary:
MS. G. HEMA MALICHAH
Assistant Professor, Department of English
Anna Adarsh College for Women
Treasurer:
Dr. B. PUNITHA
Assistant Professor, Department of Corporate Secretaryship
Anna Adarsh College for Women
Executive committee members
| | |
| --- | --- |
| Dr. R.POORNAMATHY | Assistant Professor, Anna Adarsh College |
| Ms. N. KEERTHANA | Deputy-Head, Centre for Online programs, Dr. MGR Educational and Research Institute University |
| Ms. DHIVYA.K | Director, Swarag Logistics |
| Ms. NISHA VIJAY PATIL | Founder & Director, Bizlex Consultancy |
| Ms. K. MANISHA SHARMA | Assistant Professor, Dr. MGR University |
| Ms. S. GANGA DEVI | Portfolio manager, Indusind Bank Ltd |
| Ms. RAMYA G.KRISHNAN | HOTS Junior Instructor, Wizlub App |