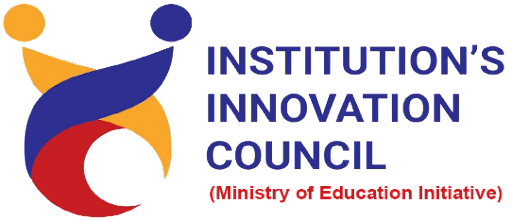 ANNA ADARSH COLLEGE FOR WOMEN
The Institutions' Innovation Council is an initiative under the Ministry of Education (MoE), Govt. of India, to systematically foster the culture of Innovation amongst Educational Institutions.
The council's primary aim is to encourage, inspire and nurture young students by supporting them to work with new innovative ideas and transform them into workable and successful plans and prototypes while they are in their productive years.
Composition
IIC in Anna Adarsh College for Women was established on 28th December 2021. The team is led by the President of IIC- Dr. Anita Raman, Vice Principal & Dean of Academics. Dr. G. Varalakshmi, Assistant Professor, Dept. of Corporate Secretaryship, Shift – II is the convenor. The council comprises of 7 faculty members positioned as coordinators for various thrust areas such as Innovation, Start – up, IPR, social media, ARIIA and NIRF. 10 faculty members from various departments are also a part of the staff council of IIC.
The student council of IIC is comprised of 50 students. Each thrust areas mentioned above has 5 students working on it along with the staff coordinators and members. Established entrepreneurs and professionals are also a part of IIC as external members of the team.
Primary focus of IIC is –  
To create a vibrant and Dynamic ecosystem in the Institution to foster Innovation & Entrepreneurship.
To facilitate innovation across every stage- from ideas generation to pre-incubation, incubation and graduating from the incubator as successful start-up founders and entrepreneurs.
Functions of IIC
To conduct innovation and entrepreneurship-related activities prescribed by the Ministry of Education's Innovation Cell (MIC).
Activities conducted are categorised Calendar Activity, MIC driven and Self driven.
Identify and reward innovations developed in the institute and share success stories to motivate the young minds
Organize periodic workshops/ seminars/ interactions with entrepreneurs, investors, professionals and create an encouraging environment for student innovators.
Networking with peers and national entrepreneurship development organizations.
Organize Hackathons, idea competition, mini-challenges etc. with the involvement of industries.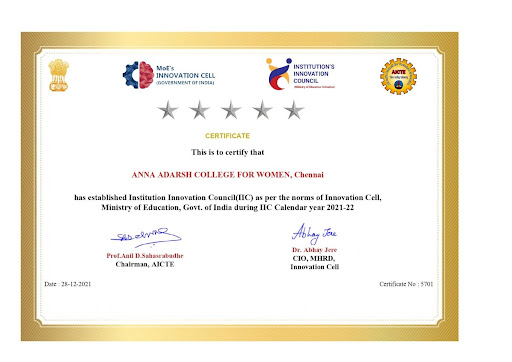 ANNA ADRSH COLLEGE FOR WOMEN INSTITUTION INNOVATION COUNCIL ACTIVITY FEBRUARY 2022 - AUGUST 2022
| | | | | |
| --- | --- | --- | --- | --- |
| SL.NO | DATE | CATEGORY | NATURE OF ACTIVITY | Social Media Link |
| 01 | 28.02.2022 | Celebration activity | National science day | Click Here |
| 02 | 17.03.2022 | Self driven | Webinar – Design thinking | Click Here |
| 03 | 25.03.2022 | IIC calendar activity | Plan d ' affairs (Business plan ) | Click Here |
| 04 | 26.03.2022 | Self driven | Workshop on photo album designing and gift box making | Click Here |
| 05 | 28.03.2022 | Self driven | Entrepreneurship awareness programme by CPPPI , KVIC , MSME , Govt. of India | Click Here |
| 06 | 02.04.2022 | Self driven | Workshop on Baking | Click Here |
| 07 | 07.04.2022 | Self driven | International webinar on world health day | Click Here |
| 08 | 19.04.2022 | Celebration activity | Earth day rally | Click Here |
| 09 | 19.04.2022 | Self driven | My career is my choice | Click Here |
| 10 | 23.04.2022 | Self driven | Steps to become women entrepreneur | Click Here |
| 11 | 23.04.2022 | Self driven | Intellectual property right legal issues and benefit | Click Here |
| 12 | 11.05.2022 | Competition | Tech splash | Click Here |
| 13 | 28.06.2022 | Self driven | Out of the box thinking for problem solving | Click Here |
| 14 | 01.07.2022 | Self driven | Impact lecture session – I | Click Here |
| 15 | 14.07.2022 | Self driven | Impact lecture session – II | Click Here |
| 16 | 21.07.2022 | Regional meet | Convened by the ministry of education 's Innovation cell and AICTE at Sathyabama institute | Click Here |
| 17 | 09.08.2022 | IIC calendar activity | How to plan for start-up and legal & ethical steps | Click Here |
| 18 | 10.08.2022 | IIC calendar activity | Intellectual property right and IP management for start up | Click Here |
| 19 | 11.08.2022 | IIC calendar activity | Early stage entrepreneurs & mentoring | Click Here |
| 20 | 12.08.2022 | Competition | AE WATAN INDIA MERE WATAN | Click Here |
| 21 | 22.08.2022 | Self driven | Social entrepreneurship | Click Here |
| 22 | 23.08.2022 | IIC calendar activity | Angel investment / VC funding opportunity for early stage entrepreneurs | Click Here |
| 23 | 24.08.2022 | IIC calendar activity | Demo day exhibition | Click Here |